---
Hilo, Hawaii, on the "Big Island" is a beautiful truly Hawaiian town at the base of 13,796 foot Mauna Kea – home of 13 telescopes (Yes, the mountain is snow-covered in the winter – but it's always warm in Hilo!)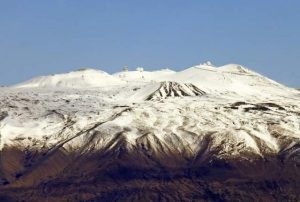 Leslie & Jo Hittner
In March 2014, we visited the Big Island for one day. We loved it. In particular, we fell in Love with Hilo. We returned for two weeks that following December/January. We needed to be sure. We were. By the end of January 2015, we were the happy owners of a townhome in Hilo. We now continue a decision we made long ago: to use energy as wisely as possible. We continue our goal of reducing our "carbon footprint."
Below are the initiatives that we have implemented in Hilo.
But Summer is in Winona

We have also retained a presence in Winona during the summer.  Who can completely abandon Minnesota's fine summer weather? Who can go a year without attending the GRSF, or the Minnesota Beethoven Festival, or the Commonweal Theater in Lanesboro? We also continue to have family and great friends here in Winona.

Our unit is on the left side of the middle floor in this picture.

Now, I have to get to work to see what it takes to put a big solar array on that great roof!

Green Heat and AC – No Furnace and no AC

Yes, some of the newer buildings are air conditioned. Our townhome, however, is built in the classical Hawaiian energy-efficient way. We have wide eaves, and lanais which keep the sun from shining into the house.

We also have open louvers at the bottoms of windows. Yes, the trade winds move air through our home continuously – and for free!

Green Power – Solar Photo-Voltaic

Backside solar-PV. A second set of panels is on the frontside.

Grid-tie systems do not store electricity. Every watt of power generated by this array is

the house or sold to the Hawaii Electric Light Company (HELCO). On most days, the array generates more power than we use. Since we continue to use power at night, when the array is not producing, we must continue to purchase power from HELCO. We recently purchased a Chevy Bolt EV and are expanding the solar-PV system and adding a Tesla Powerwall storage system. This will allow us to be fully independent of HELCO during power outages and at other times, if we wish. During the day, this expanded system will generate about 10  kilowatts/hour of electricity and we will continue to sell 4 kilowatts/hour to HELCO. On overcast days, the amount of electricity produced is reduced, but it only drops to zero when it is totally dark.

The Tesla Powerwall can store 13.7 KWH (Kilowatt hours) of power. The Chevy Bolt battery stores 60 KWH of power.
Green Lighting – LEDs

All of the lights in our townhome have been replaced with LEDs.  We found a great line of inexpensive LED bulbs at Home Depot that are not dimmable and offer the maximum in savings. We have one dimmable LED bulb in the light fixture above the dining room table.





Green Transportation – Chevrolet Bolt EV

We purchased a Chevy Bolt EV in October 2018. We have not driven into a gas station

2018 Chevy Bolt EV

since! EV's in general and those like the Chevy Bolt – which have a fully-charged range of 238 miles or more – are well suited for our island driving environments.

  

And with a 0-60 mph rating in about 6 seconds, it is hot – hot – hot

---